Business as History and Biology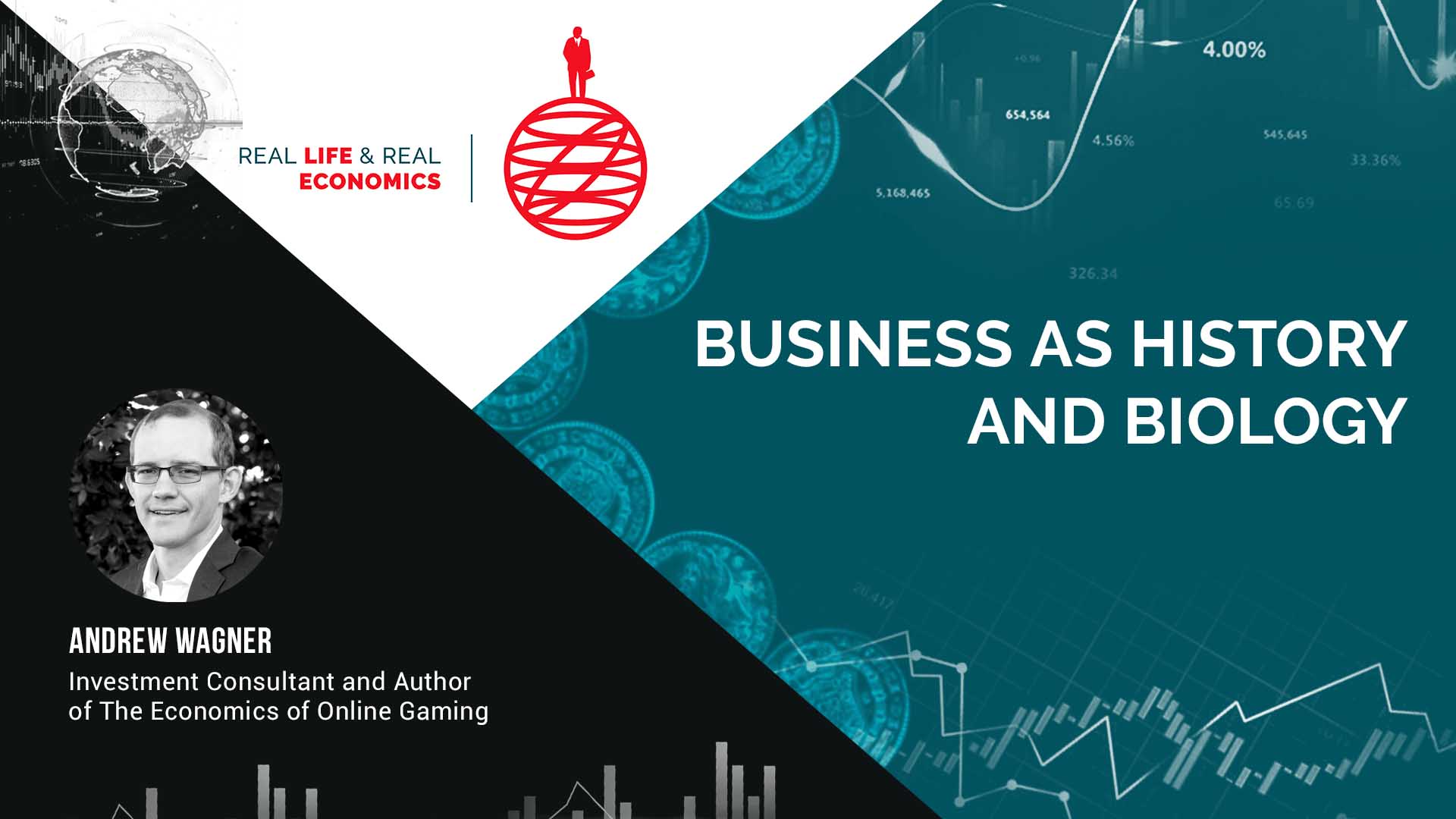 Andrew Wagner, Investment Consultant and Author of The Economics of Online Gaming
Examples of contradictions in the history of business and technological history
I see the history of technology and the history of business as two related subjects with separate tracks, and a focus on one side will sometimes miss the value of the other. From this view, I see two types of similar historical contradictions from modern history. The first contradiction is the difference between a new technology and a new business market. Important technological achievements are not always recognized as a business success, and business growth does not always come from new technology. A business focus will not care about technology unless it has an obvious significant market value.
The second contradiction is similar to the first. It is about who gets the credit for a new innovation: is it the inventor who figured out how to do it, or is it the business that built it, or is it the customer that demanded it? In most historical cases, a new technology will come many years before the business market is ready for it. Modern history has countless examples. The time period known as the Golden Age of American Radio began a few decades after the first radio was invented. The time period known as the Golden Age of Television came a few decades after the first television was invented. The first demonstration of a truly modern computer, complete with a mouse, graphics, and online collaboration, was presented in an event called "The Mother of All Demos" in 1968. It took about 20 to 30 years before the Internet and the personal computer revolution made this technology into a market for the average person. It takes time for technology to become useful and affordable as a consumer market. The contradiction is that maybe these periods that we call a "golden age" should be extended or redefined to include the time from when the technology was first invented to when the market became big.
This is also true for more recent history. When you think about the history of smart phones, the introduction of the iPhone marks the beginning of the rise of the smart phone business. But the iPhone was not the first smart phone. The first phone that would fit the definition of a smart phone was actually made by IBM about 15 years before the iPhone. No one is talking about the technological achievement of IBM's smart phone because the consumer market was not ready. This is a contradiction in the history of business and technology. The first is not always the most successful, and business highlights what is successful.
For the second type of historical contradiction, the way that a technological achievement is framed is what determines who is recognized as the source of a big idea. For example, if we go back to the development of the massive mainframe computers, IBM gets the glory. But the funding for these computers came with a lot of help from the federal government. The largest source of demand for this computational power also came from the government. This is where we find the contradiction between technology and business histories: If there was not such a big customer asking for these products and providing the funding to get them done, then would this technology still be developed? In some cases, the answer to that question is no, but the IBM mainframes mostly carry IBM names.
But it is not always a business that gets credit for a customer's idea. The development of ARPANET, the precursor to the Internet, has the same type contradiction. The name itself includes the government agency that demanded it: the Advanced Research Projects Agency, or ARPA. ARPA was the organization that came up with the big ideas for ARPANET and coordinated with all of the companies that made it possible, so it certainly deserves credit for its part in the development of ARPANET. But we also overlook the businesses that actually built the machines and the engineers who designed them. ARPANET was a government technology program made possible by private business. Both of them were needed.
There are also examples where both of these contradictions exist at the same time. This happens in the basic research that makes an industry possible. For example, in the history of business, private companies sending rockets into space are celebrated as major business and technological events. But these companies are standing on the shoulders of government agencies like NASA. Government research and government risk-taking made it possible and private business made it cheap. They all deserve credit for the parts that they played, but looking at this history from only the business side would miss NASA's contributions.
And that is where I see these contradictions coming from. They happen when there is a gap in time from when a technology is new and when it becomes useful for business, and they happen when there is a conflict in who gets credit for a new technological achievement. I believe that these contradictions will always exist because history is complicated, and the challenge for understanding history is to find the balance between the technology side and the business side.
What is the formula of a business? (Which sciences compose it?)
When I look at companies, I look at how they compete and cooperate, and how that changes over time, so that is where I am coming from when I think about this question. When I began studying economics in graduate school, I had one professor who insisted that economics and business is just math. Not even psychology, but just math. You put in some numbers and some new numbers come out. To pass this professor's class, I was required to write an essay defending this mathematical philosophy. It was a very painful essay to write, because I do not agree with that philosophy.
I am not the only person in the field of economics who has this concern. I had another graduate professor who confided with me that when he was studying economics, he wrote a paper about the economics profession using too much math. He said that when he showed his professors this paper, they told him to bury that paper and never speak to anyone about it, because they thought it would hurt his ability to get a job in the field.
This pressure is a very powerful force that keeps economics and the study of business stuck in a world of math. But business and economics relies on understanding how people behave. They are made from people making choices, and for that reason psychology must be included as well. But I also believe that you can pull useful ideas from every field of study and combine them to look at business in different ways. From my own perspective, there are two very powerful subjects that help me understand business. The first one is history and the second one is biology.
From a historical perspective, the evaluation of a business should compare it to other businesses in the past. This is most true when a company claims to have an amazing new idea. They are almost certainly not the first ones to think of this amazing new idea, and looking at other businesses that had the same idea will reveal a lot of important information. We can understand why those ideas worked or did not work, and think about why this time might be different.
So history is useful, but I think the most powerful way to explore business is by thinking about biology. More specifically, business markets develop through an evolutionary process. The way that different companies compete and cooperate with each other is directly comparable to the way that different species compete and cooperate to survive. My favorite example of this comes from the video game industry.
When you talk about evolution, the basic idea is that an organism that successfully creates a new generation will pass on the traits that made them successful. The next generation will have some differences from the previous generation, but it will be very similar. The features that worked best for survival will continue while new adaptations are added. The reason that I like to use the video game industry as a comparison is because the video game market is described in terms of generations. Each new group of video game consoles (the hardware that it used to play games) is known as a new generation. Every new generation has something new, but it also carries forward designs and ideas that were successful in past generations. And this is true for broader business markets as well. As they develop, they carry forward ideas from the past. This view is usually summarized by the phrase "adapt or die". I think this is an appropriate way to look at business, and I would emphasize that competition is not the only kind of adaptation. Competition and cooperation are both adaptations. Business is history and biology, not just math and psychology.