Opportunities of business consulting in the crisis and "business heroes"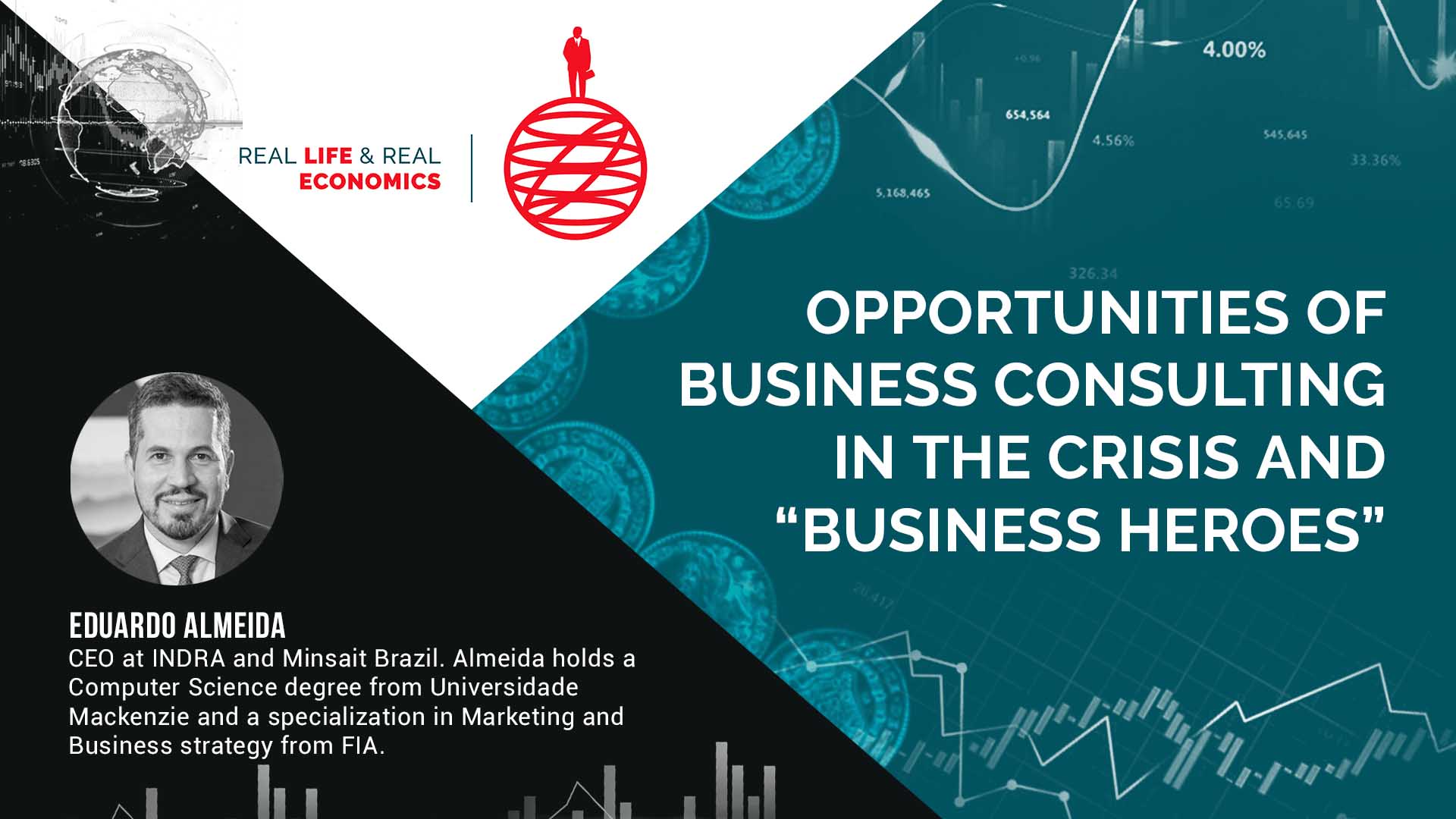 Eduardo Almeida,
CEO at INDRA and Minsait Brazil.
Former Vice President and general Manager for Unisys Corporation in Latin America.
Origins of business consultants and the security field
If we are talking about business consulting we should start with some background. If you consider business consulting as it is today, it comes from the traditional scientific management school, which was basically defined by Frederick Taylor in the latter part of the 19th and early 20th century. At that time there was a momentum of industrialization.
It is important to notice as well, that business consultancy (as well as scientific management or consultancy) has its best momentum during a crisis.
If you see what happened during the great depression in the US during the New Deal, the Second World War and the First World War, all those companies really prospered a lot during these uncertainties. If you realize how much companies like Booz Allen and McKinsey grew after the war it's very impressive. So the US government was really hiring "thought leaders" in specialized companies to support society, military and government to evolve after this big crisis. They opened opportunities to citizens and provided knowledge to transform the society.
This model is the basis of consultant services. Now when it comes to the business side we also see a lot of opportunities for these companies during times of prosperity. (What happened after the New Deal was a great momentum for consulting companies). When President Franklin D. Roosevelt broke the monopoly of different types of sectors, he opened up many opportunities for companies to apply their knowledge and support this spin-off, which in turn grew their businesses.
We also see these companies are very active applying thought leadership and applying best practices in different sectors, like hiring for instance. Whenever a company in expansion mode needs to find a certain professional type of executive they will rely on searching for consulting in a different way to attract and retain talents. The security space has a big opportunity for security companies and they are working very hard on it.
The European legislation for data protection requires a lot of standardization and a lot of regulations by companies in different sectors. The same applies in different countries like Brazil, which has similar regulations as Europe in terms of security. Security basically has two different trends: one is the technical requirements (for example one has to have it in order to be compliant, to be protected against additional threats) and the other one is what one needs to do in terms of process improvement in order to have the best protection of assets against criminals. Companies can't be good in everything, so they need consultants from the outside. Consultants bring a particular type of expertise: for example, a car manufacturer, a retailer, a broker – all have to be compliant about security data regulation. They would have to rely on someone else to bring the best practices that they have to implement in the company in order to be compliant. As threats evolve in society, they also bring opportunities for growth. Companies rely on consulting firms to bring the expertise needed to implement the necessary changes in their companies in order to be effective, more competitive, and be able to protect against crimes like civil threats for instance.
"Business heroes" of different times
Business heroes can have some qualities in common, for instance strong leadership and strong sense of purpose. For example, Walt Disney changed forever the way people entertain. They also are relentless. Thomas Edison had more than one thousand and one hundred patents but this is not the merit. The merit is how many times he failed in order to have eleven hundred patents and how persistent he was to get it done and really believing that it was possible. Curiosity is also an ingredient for success in business. Elon Musk is really curious, he is relentless in this sense. He probably is more curious than anyone else in this list because he talks about moving or going to Mars. The Earth is not enough for him, so in his opinion we have to go above and beyond boundaries to get things done.
Another point of interest is the vision. Those men are ahead of their time. They understand how they can change the way people live, learn, work, and play by inventing new things. They really anticipate trends and they produce something – it could be a dream, a product or something else, but they make it possible.
To summarize, the most important thing is legacy. What is left behind when they go? What do they leave to society? How did they change society? What was the impact of their creations and inventions to society?
Some companies are there forever. For example, the work that was done by Andrew Carnegie or John Rockefeller is there forever. They employ people, they improve wellness, and they create value to companies and to society–this is what is important. These companies are driven by values. They impact society in different ways and they leave a beautiful legacy to future generations.