Business consultants and the Security field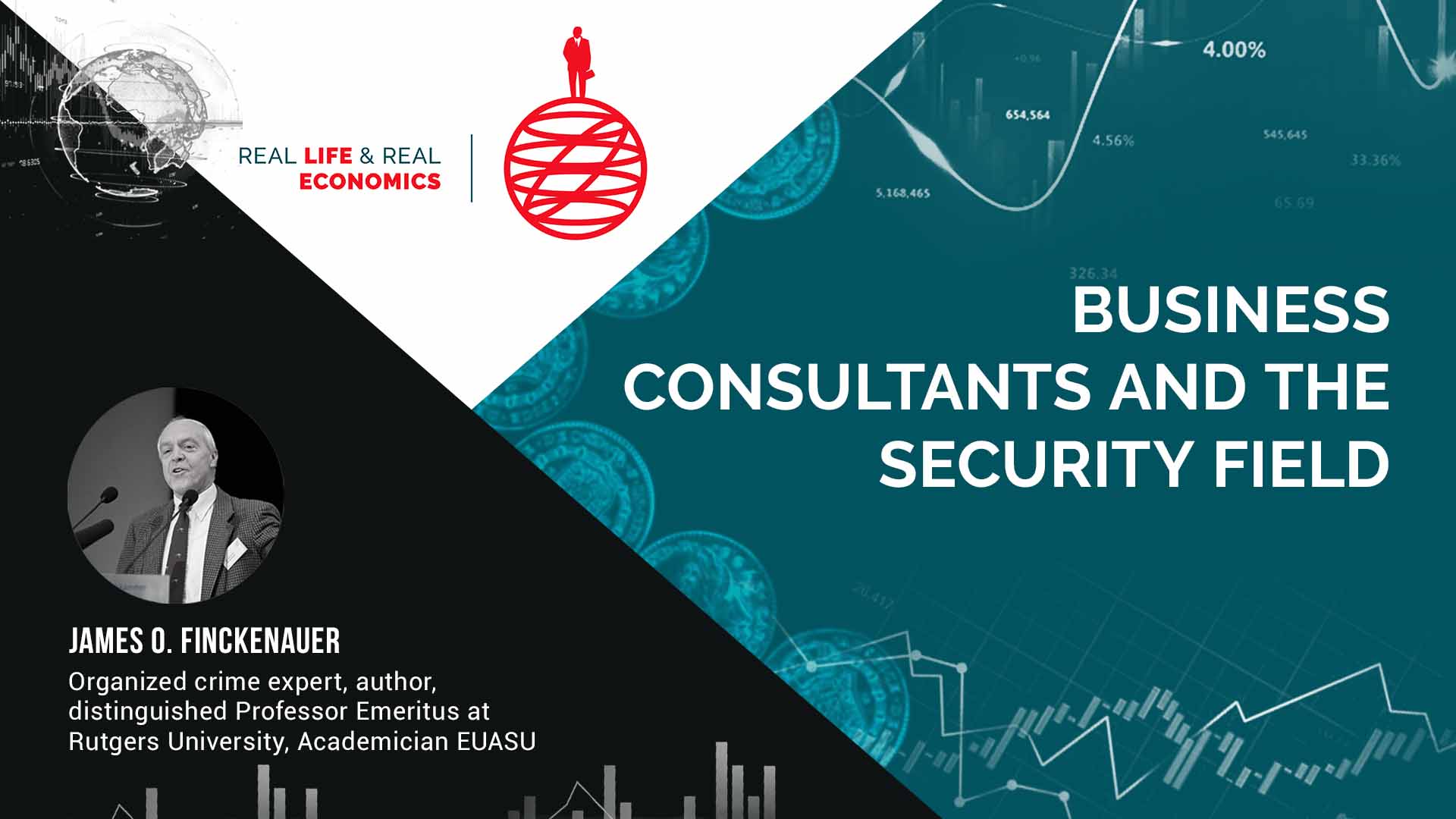 James O. Finckenauer, PhD
Distinguished Professor Emeritus & Academician EUASU
 My personal experience with consultants – both in doing consulting myself and in working with retained consultants – has not been directly in the general world of business, but rather within the world of government.  This involved working for governmental institutions that retained consultants for various purposes; consultants who often indeed did come from the business world.  Thus, in my experience there has been a blend of government and business in the carrying out of various functions.
Before focusing specifically on the field of security, a few words about this kind of consulting more generally.  When government entities use consultants, this is generally referred to as outsourcing.  This means that what is a government function is outsourced – turned over to a private sector business entity.  For example, from personal experience at the US Department of Justice's National Institute of Justice, that agency produced a large number of research reports and other documents.  Rather than mounting a large publishing and marketing operation staffed inhouse by government employees, it was decided to outsource this activity to a private entity, one which specialized solely in publishing. This was considered to be cost-effective because the company that was retained had highly qualified specialists in publishing who could do the job better and faster than any government employees could.  In part this was so because once the work was contracted out, that contractor was less bound by government rules and regulations.  This feature, as will be seen, has advantages as well as disadvantages.
In general, outsourcing government functions has both pluses and minuses.  On the plus side, the consultant/contractors are often more highly qualified specialists and are up to date on current developments and training than are their government counterparts.  This is due in large part to the fact that the private sector offers higher pay – sometime much higher pay – than government employees make, and also has much greater flexibility in dismissing poor performers than does the government.  On the minus side, outsourcing can be very expensive just because of the higher pay of private sector workers, and because companies have a profit motive.  Outsourcing also can and has been used as a way of disguising the real size of government.  Small government advocates have sometimes claimed to reduce the size of government by using contractors, when in fact what they have done is contract out government work to the more costly private sector.  It thus only appears on the surface that government is operating more cheaply, when in fact the opposite may be true.
Business Consultants and the Security Field
Turning specifically to the security field, there are a number of additional, and in many cases thorny issues that arise.  One must first define what is meant by security?  Here it refers to protection, and logically to the question of protection from what and from whom?   Then there is the matter of who or what is providing the protection and security?  It should be immediately apparent that security and protection are a quite different matter altogether than the relatively benign production, marketing and distribution of documents and reports as was referred to above.
Protection from criminals and victimization, for example, is provided by such public entities as the police, and in the case of incarcerated criminals by prison guards.  At the national level, protection of the country at large is provided by the armed forces.  There are numerous instances of private sector security ranging from individuals hiring their own bodyguards, to banks and other financial entities hiring their own security personnel.  Here the focus is on public sector security.
Where the matter of security and business consulting meet is when government entities outsource security functions to private sector businesses.  Many experts argue that there are certain governmental functions that are and should remain inherent to government – public safety being one of them – and that therefore this is not something that can or should be outsourced.  An example of the controversy surrounding this kind of outsourcing is the reliance in certain places in the US on private contractors to operate their jails and prisons (See e.g., Austin & Coventry, 2001).  Those who argue in favor of this policy claim it is a cost-cutting measure and that private prisons can be operated more cheaply and effectively, and thus provide more public security than do publicly operated jails and prisons.   On the other side, the critics of this policy argue that society's punishment of offenders is one of those inherent governmental functions that should not be outsourced.  Correctional officials and employees, they point out, are governed by strict laws, rules, and regulations, including oaths to uphold the US and/or various state constitutions.  The same is not true for consultants and contract employees.  Upholding justice and the rule of law, and protecting the human rights of incarcerated individuals, are obviously different goals than is maintaining a cost-efficient business model that maximizes the profit margin.  This dilemma becomes even more impactful when one turns to the issue of national security – the defense and protection of the country from a variety of threats and potential harms.
Engaging outside contractors in defense matters has a long history – use of mercenary armies being one such example.  Of more recent vintage, over the past 20-25 years, we have seen a rise in the use of particular kinds of contractor/consultants in matters of national defense and foreign affairs.  These are not usually mercenary armies as such, but rather companies often composed of ex-military or intelligence types who take on tasks outsourced to them by the defense and foreign policy government establishment.  These instances, which will take up the remainder of the focus here, are perhaps the clearest examples of the problems and issues that arise when what have been traditionally inherent governmental functions are outsourced to the private sector.  There are two such US companies in particular that come to mind in this regard – Blackwater and DynCorps.  For reasons of space, we will here focus only on Blackwater.
A Case Example – Blackwater
First called Blackwater USA, this company was formed in 1997 by Erik Prince, himself an ex-Navy SEAL, and others.  Their purpose was to provide training support to military and law enforcement organizations. In 2001, the company was transformed into Blackwater Security Consulting, and along with some 60 other private security firms received lucrative contracts during the Iraq War to guard officials and installations and to provide training and other forms of support.   The company had similar contracts with the US government for work in Afghanistan as well as in the US following Hurricane KatrinauH.  It is estimated that Blackwater received billions of dollars in U.S. government contracts over this period.
Erik Prince is himself an interesting character.  Whether one would consider him to be a "hero" in the world of national security contracting or an "anti-hero," depends in large part on one's perspective and views about war and the military.  His own military background seems to have imbued Prince with a kind of "warrior" mentality.  This I would define as being a risk taker, being unafraid or courageous in the face of danger, as being what one might label "macho."  Prince comes from a wealthy family and has had good political connections – both of which would certainly help his entrepreneurial success.  But there is also the interesting question or hypothesis about the extent to which what I am calling the warrior mentality – being risk averse and having a "can do" attitude – is positively correlated with being a successful entrepreneur?  On the face of it at least, it would seem that building a successful business demands risk-taking and having the kinds of characteristics associated with being a warrior.  Erik Prince may be an example of this, or he may simply be an outlier?
It should be pointed out that Blackwater USA became Xe Services in 2009 and then Academi in 2011, and Prince is no longer involved with them.  The latter company continues as a private primarily military support enterprise.  Among its lucrative contracts is one to provide security guards for the US State Department.
Two examples of some of the problems identified with respect to private security consulting arose during the initial Blackwater iteration of the company.  First, with respect to cost, a staff report compiled by the US House Committee on Oversight and Government Reform raised the issue of the cost-effectiveness of using Blackwater forces instead of U.S. troops in various settings. According to the report, Blackwater was charging the government about six times more per employee than the cost of an equivalent U.S. soldier.  On the matter of questionable legality and morality, a lawsuit, Abtan v. Blackwater (2009), alleged that Blackwater had engaged in war crimes and created a culture of lawlessness in various of its activities. (For further discussion see, e.g., Stanton & Frank, 2020).
One important issue with respect to national security activities being outsourced to private contractors is that sometimes those contractors gain access to classified information.  When they then move on to another job or company, they can take that classified information with them and use it to their financial advantage, although perhaps to the detriment of the interests of the government agency that first hired them.
With respect to the concern about outsourcing inherent governmental functions, the Blackwater experience in Iraq indeed provided troubling examples of problems.  One of the more infamous was an incident in which Blackwater contractors got involved in a gunfight in which 20 seemingly innocent Iraqi civilians, including women and children, were killed. This incident in particular heightened national interest to the question of private forces being so-used, and critically, brought up the issues of legality, accountability, and oversight.  To be clear, the issues and questions that arose regarding the use of private forces in Iraq and the cost both morally and financially of doing business this way was not and is not limited to Blackwater. There are several firms that were there right alongside them, but it was the above incident that primarily brought these questions to the surface.
The questions raised then continue today.  There are financial, legal and moral considerations in the decision to outsource inherent governmental security functions to private sector consultants.  The quandary is best expressed in the words of a former soldier who did security work in Iraq and reflected on the difference between acting as a soldier and then as a private consultant: "Being motivated, and also somehow restrained, by the trappings of history, and by being part of something large, collective, and, one hopes, right.  But being a security contractor strips much of this sociological and political upholstery away, and replaces it with cash" (Burns, 2007).  Thus, the dilemma!
References
Austin, James & Garry Coventry, Emerging Issues on Privatized Prisons, Monograph NCJ 181249, Bureau of Justice Assistance, USDOJ, February 2001.
Burns, John F., "The Deadly Game of Private Security," The New York Times, September 23, 2007.
Stanton, Ellie & Josh Frank, "Can't Do With, Can't Do Without: The Use of Private Military Contractors in U.S. War Efforts," Political Science, University of Colorado, Boulder, CO, March 2, 2020.