Mechanisms of consumption and the COVID-19 pandemic within the consumer society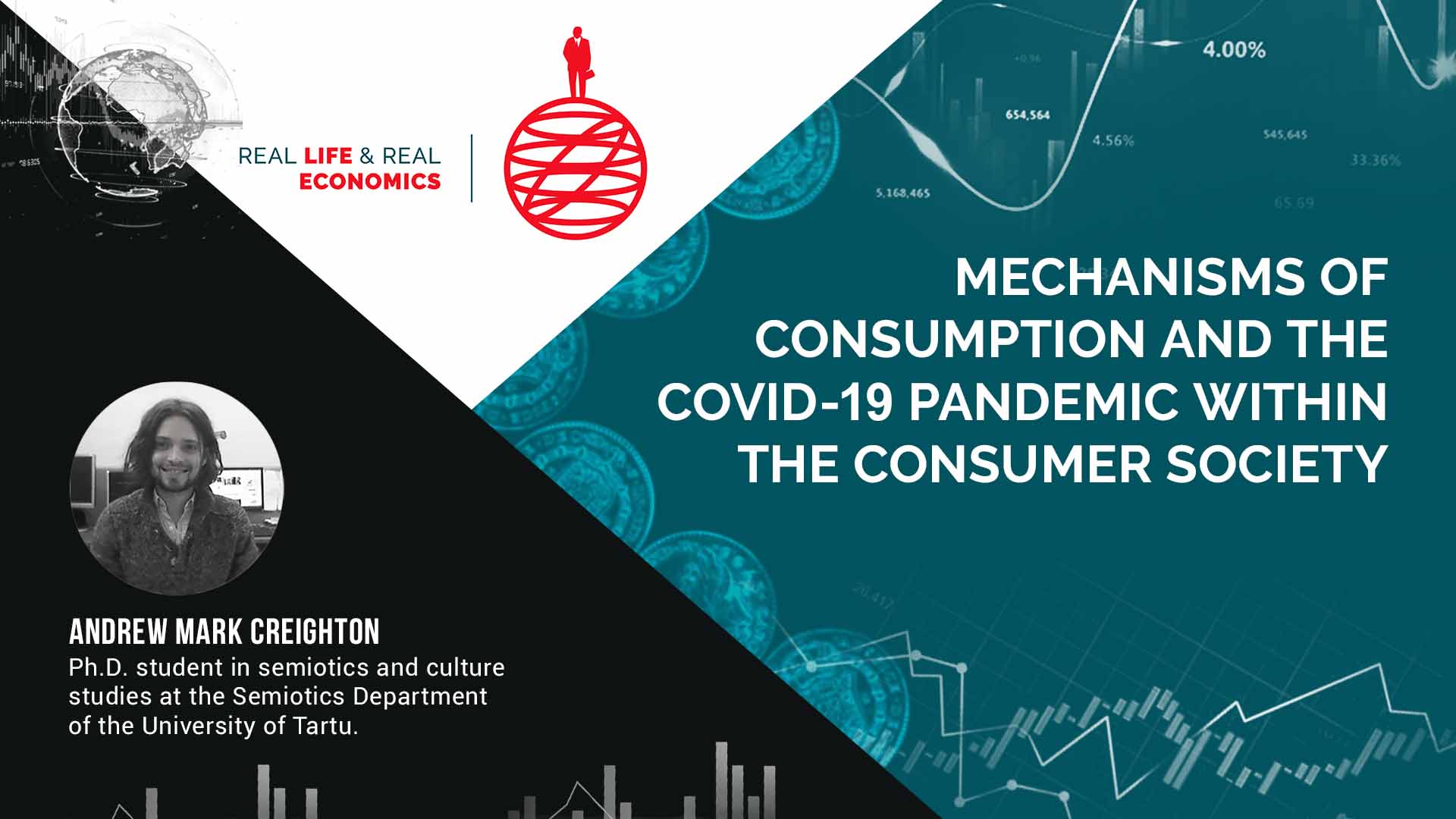 Andrew Mark Creighton,
Ph.D. student in semiotics and culture studies at the Semiotics Department of the University of Tartu.
The longevity of consumer society in general have been a major theoretical and practical area of inquiry, in one form or another, over the last and this century. However, a quick overview of literature on consumption and formal rationalization (McDonaldization) shows that consumer society has a number of mechanisms that allow for it to maintain consumption. David Riesman, Nathan Glazer, and Reuel Denney (1989) demonstrated a socio-cultural mechanism that at once maintains high levels of consumption, while also preventing overspending (ensuring consumers can continue consuming into the future):
The consumer today has most of his potential individuality trained out of him by his membership in the consumers' union. He is kept within limits on his consumption not by goal-directed but by other-directed guidance, kept from splurging too much by fear of others' envy, and from consuming too little by his own envy of the others. (Riesman, Glazer and Denney, 1989, p. 79).
Further on this point, George Ritzer (2019) — Chris Rojak (1993) also discusses this — argues that the means of escape from McDonaldization and consumption have been rationalized, so means of experiencing the world, free of consumption and formalized systems, now require engaging with both (i.e., fishing requires a fishing license and complying to various regulations, as well as consuming fishing equipment). Stjepan Meštrović (1997) argues that emotions themselves have been McDonaldized, and as such transformed to maintain and facilitate consumption: meaning our social and personal emotional interpretations of reality have been socialized and culturalized to enforce consumption and rationalization. The spectacle, according to Guy Debord (2005), completely dominates perceptions of reality. A network of social relations mediated through images, the spectacle within society "[…] presents itself simultaneously as society itself, as a part of society, and as a means of unification. As a part of society, it is the focal point of all vision and all consciousness." (Debord, 2005, p. 7). Ultimately, the spectacle justifies consumption and production. Jean Baudrillard demonstrates quite heavily, how consumer societies makes use of a number of mechanisms to further consumerism indefinitely. The simulation of nature for instance, being quite like Debord's spectacle, demonstrates how the restructuring of nature, for the means of consumer functionality, facilitates an illusion of nature, as such it is a misperception of influences of consumption. In other words, consumer nature is presented as being true nature, while it is actually a heavily regulated and socially and culturally structured simulation of nature. The implosion of formally differentiated spheres within society also facilitate consumption, seemingly continuously. As Baudrillard states:
What affects the meaning of the works is the fact that all significations have become cyclical. In other words that, through the very system of communication, a particular mode of succession and alternation has been imposed upon them, a combinatorial modulation which is precisely that of hemlines and television programmes (cf. below, `Medium is Message'). And also the fact that, given this situation, culture, like the pseudo-event in `public information', like the pseudo-object in advertising, can be produced (and virtually   is produced) out of the medium itself, out of the code of reference. (Baudrillard, 1998, p. 102).
This stems from production and work, that:
The decisive factor is not whether millions or only a few thousand partake of a particular work, but that that work, like the car of the year, or nature in parklands, is condemned to be merely an ephemeral sign because it is produced, deliberately or otherwise, in what is today the universal dimension of production: the dimension of the cycle and recycling. Culture is no longer made to last. It keeps up its claim to universality, of course, and to being an ideal reference, doing so all the more strongly for the fact that it is losing its semantic substance (just as Nature was never glorified quite so much before it was everywhere laid waste). (Baudrillard, 1998, p. 101).
Ultimately this implodes the meanings between objects, organizations, etc., allowing for the continuous reuse and restructuring of consumer goods and products. So, based on the above works it is quite evident consumer society has developed quite effective, controlling, and invasive, yet often happily accepted according to Meštrović (1997), means to further consumption and consumer society. However, can a disaster disrupt and end consumer society? An intuitive answer would be yes, if the environmental conditions created by a disaster disrupt the means of production and consumption, such a society would end. However, the reliance on the image within consumer society, and the logics of consumption, means that such aspects of consumer society 'live' within our habits, logics, emotions, myths and cognitions, and as such can survive the destruction of economic systems. Moreover, the proliferation of consumer logic within written, digital, and other forms of recorded media, means that such consumer logic has the potential to survive even the destruction of humanity. Though this is verging on science fiction and, a more recent disaster, the COVID-19 pandemic, is a much better phenomenon to examine here, regarding its influence on the continuation of a consumer society.
However, first, let us look at how contemporary consumer society, in some regards, takes its current form. For many of us, — expectedly over the last few pandemic ridden years, though this has been an increasingly prevalent trend more or less globally for the past three or four decades — we have seen that society is increasingly reliant not only on online consumption and production, but the production and consumption of online virtual artifacts (e.g., video games, material within video games, art, online real-estate). These artifacts, materially speaking, are relatively inexpensive to reproduce, and in some cases to make. Moreover, in many instances such artifacts can be copied or replicated an indefinite number of times, but these actions are restricted and policed to create an illusion of scarcity to facilitate further consumption. This takes Baudrillard's discussion about the image and logics of consumption to an almost complete idealization, as once the object, in its material form — while subordinated to the image — still existed in one physical form or another, even as a simulation. While now, the image in a sense, is all that is left, and the physical has been rendered to memory on a computer, or even a cloud. This mechanism of producing objects in computer and online space, could, theoretically at least, prolong consumption for an indefinite amount of time, and into periods of true scarcity where the abilities to consume more physically tangible based goods is difficult or even impossible. Further on this point, Ritzer (2005) has noted that consumption and production have entered the domestic sphere, and that our homes have become areas targeted by advertisements, and places to purchase products. However, consumption and production have penetrated further into our personal spheres than that, they have entered, as Alfred Schutz and Thomas Luckmann (1973) would term it, the everyday life-world and the natural attitude, and perhaps even other spheres of our finite understandings of reality (i.e., how many people check their phone in a haze of sleep? Buy products through an online store while inebriated at a pub? Browse online boutiques in between paragraphs while studying?). Thanks to mobile devices, we view and interact as consumers on an almost continuous bases, we have accepted these implosions and consumption into almost all areas of our personal and professional lives, and perhaps take these relationships as for granted, in fact, Ritzer (2005) argues many of us personally think of them as beneficial.
The pandemic in many ways has forced us into these new means of consumption. Where over a period of almost two years, we experienced on a collective level, the implosion of almost all our social, cultural, and economic spheres into the function of computers, the internet, and online spaces. This has resulted in our reliance for almost all of our needs, desires, and wants, to be focused through the medium of online spaces, resulting in a proliferation of consumption through these spheres; this includes forms of more traditional consumption being facilitated through the internet (online food ordering, shopping for clothes, books etc.) or the consumption of purely online artifacts (games, art, etc.), or communication and labor (Zoom, Microsoft teams etc.). So, it is apparent that technological innovation within more contemporary consumer societies has reached a level where the physical aspects of consumer goods, in many cases, almost entirely relates to the image and logic of consumerism itself. Though of course, you still need computers, tablets, and mobile devices to access them, however Baudrillard's thesis still remains firm in these instances. When the recent(current) pandemic is considered, the effectiveness of consumerism in maintaining itself and continuously facilitating consumption also becomes apparent, as I will demonstrate below, consumption continued to thrive during this global tragedy.
During the pandemic, innumerous individuals lost their jobs, and many businesses and companies went bankrupt or were liquidated, but how did consumer society continue to flourish during this time? This continued flourishing can in part be related to an inherent seemingly paradoxical element that constructs contemporary consumption. Generally speaking, most means of consumption and production are relatively rigid, their McDonaldized traits tend to lead to irrational rationalities, and they eventually fall under the weight of their own contradictions or are unable to maintain relevance within changing social environments (Ritzer 2019). However, consumer society as a whole maintains some flexibility, in that it changes, grows, and develops, though as do the most successful companies, and many unsuccessful ones too. This paradox can perhaps be best exemplified by using a metaphor of evolutionary life to create an analogy between consumption and life. Biological entities either evolve to fit within an ecological niche, or go extinct, but either way life itself is always maintained if at least one species continues its existence. If companies and corporations here are seen as biological entities, and consumer society itself is seen as life and the evolutionary process, then the logic of this paradox becomes apparent and less contradictory. While the individual entity or even a species of consumption is liable to extinction, the extinction of consumption and the consumer society itself, is a completely different matter, needing the extinction of all 'life' to be concluded; as such, the flexibility of consumer society stems from its willingness to sacrifice the micro and meso to extend the continuation of the macro. The elements of consumer society continue to evolve or go extinct, facilitating flexibility for the continuation of consumerism. However, this flexibility does not extend to the virtues of consumer society, the most prominent of which is to facilitate the function of consuming, which in turn allows for a rigid structure of consumption to remain influential, through sacrificing and experimentation with more micro and meso structures. As such, a dominant rigid structure is able to make use of more micro-structures to create flexibility and allow for the continuation of its domination. Of course, this is only a metaphoric analogy, and an ironic one as well, as consumption may very well lead to the complete extinction of life on Earth, and perhaps consumer society too in that case. Moreover, as we all know, the evolutionary process, and most species in this world, do not need a consumer society to survive or thrive. We have seen during the pandemic, and with the commodification of the various corona virus vaccinations, that reliance on consumption very much puts lives at risk, in this case especially the economically and socially disenfranchised of the world (Berghs, 2021; Katz et al. 2021; Sell 2020). While the pandemic has demonstrated the inadequacies of consumer logic in maintaining human life in times of crisis, it has also demonstrated how consumer logic is able to maintain itself in such situations as well, through reliance on the new 'species' of consumption or the new means of consumption as Ritzer terms it. While brick-and-mortar consumer establishments in large part saw a decline in the consumption of their products, online establishments had a quantitatively different experience, in which consumption through online means brought high levels of sales (George, Lakhani and Puranam, 2020; Mohsin, Hongzhen and Hossain, 2021) and technological innovations (Gholamreza 2020) that allowed for further experimentation and intrusion of consumption within domestic and personal spheres. Some examples of these technologies, relate to education and labor itself. Using commercial products like Zoom and Microsoft groups, labor and education have not only been McDonaldized, to a greater degree than before, through the use of technologies that create more control, efficiency, predictability, and calculability within communication and labor, but they have also been further commodified within the context of the internet. Institutions had to consume these products to allow for the furtherance of their operations during pandemic lockdowns. Moreover, in education settings or even family settings, where the option to use Zoom for free is chosen, such communication is still commodified, as the use of Zoom entails the collection of users' personal information, the devices used, etc., which are in turn is used as a product to be sold (Zoom Video Communications Inc., 2021). In these instances, consumption has grown to encompass the internet spheres of communication, education, and labor through the innovations of Zoom and Microsoft Teams and similar products. Moreover, leisure has also been heavily recentered towards online spheres, subscriptions to Netflix, Disney Plus, Hulu, and many other online film and series subscription services, as well as video game consumption, has increased dramatically during the online pandemic, while other forms of leisure such as playing sports, socializing in clubs and bars, and other face-to-face interactions experienced a dramatic decline (Gupta, Singharia 2021; Vlassis 2021). Once again, a shift from largely physical, face-to-face interactions have been transitioned towards innovations in online and heavily commodified interactions moderated through internet information technologies. The reasons for these shifts are obvious, interaction through purely corporeal means within wider society had been, and in many areas still is, restricted, so a mediation through the internet was needed. However, this mediation has shown that consumerism is not only adaptable to changes in cultural, social, and economic trends, but adaptable to sudden, unexpected, and global tragedies. The consumer society is able to simulate education, labor, leisure, and family communication to an extent that allows for the continuation of the production, family ties, and feelings of leisure through innovations in internet technologies. However, these innovations were only able to succeed, as consumer society's logic places emphasis on the simulation, or the image and not the object itself. It has been widely discussed that online education is not, the same as face-to-face education (Bączek et al. 2021; O'Donoghue, Singh and Green 2004), and the same can be said for all of the above points, however, they suffice, not necessarily because they are suitable substitutes for such relationships, but also because these relationships only need to be seen through the image of said relationships to be continued for many.
Concluding, it is apparent, as Baudrillard discussed, that consumer society's reliance on the image and logic of consumption, allows for a removal of the object, or relationship in the above examples, to the extent that they can exist almost entirely as an image, and the object can be in large part be removed or reduced. This allowed for the furthering of consumption during the COVID-19 pandemic, by facilitating consumption within online spheres, while also continuing the consumer society by allowing for further areas of experimentation and growth for the new means of consumption; ultimately continuing consumer society. Online technologies and interactions, within the confines of consumer society have allowed for consumer society to not only survive, but to continue to develop, flourish, and further entrench itself into our everyday lives. This makes it extremely difficult to determine when the consumer society will exist out world, as seen with the COVID-19 disaster, this system has strengthened in many regards and has become more tightly woven it into our lives.

References:
Bączek, M., Zagańczyk-Bączek, M., Szpringer, M., Jaroszyński, A., and Wożakowska-Kapłon, B. (2021) 'Students' perception of online learning during the COVID-19 pandemic: A survey study of Polish medical students', Medicine, 100(7), pe24821.
Baudrillard, J. (1998) The Consumer Society. London: Sage Publications.
Berghs, M. (2021) 'Who gets cured? COVID-19 and developing a critical medical sociology and anthropology of cure', Frontiers in Sociology, 5, p613548. [online]. Available at: https://www.frontiersin.org/articles/10.3389/fsoc.2020.613548/full (Accessed: 23 June 2021)
Debord, G. (2005) Society of the Spectacle. London: Rebel Press.
Gupta, G. and Singharia, K. (2021) 'Consumption of OTT media streaming in COVID-19 lockdown: Insights from PLS analysis', Vision: The Journal of Business Perspective, 25(1), p36-46.
George, G., Lakhani, K. R. and Puranam, P. (2020) 'What has changed? The impact of Covid pandemic on the technology and innovation management research', Journal of Management Studies, 57(8). [online]. Available at: https://onlinelibrary.wiley.com/doi/full/10.1111/joms.12634 (Accessed: 23 June 2021)
Gholamreza, E. (2020) 'Assessing the impacts of coronavirus on lifestyles',  Social Impact Assessment, 1(2), p65-85.
Katz, I.T., Weintraub, R., Bekker, L-G., and Brandt, A. M. (2021) 'From vaccine nationalism to vaccine equity — finding a path forward', The New England Journal of Medicine, 384L, p1281-1283.
Meštrović, S. (1997) Postemotional Society. London: Sage Publications.
Mohsin, A. K. M., Hongzhen, L. and Hossain, S. F. A. (2021) 'Impact of COVID-19 Pandemic on Consumer Economy: Countermeasures Analysis', SAGE Open, 11(2) [online]. Available at: https://journals.sagepub.com/doi/full/10.1177/21582440211008875 (Accessed: 23 June 2021)
O'Donoghue, J., Singh, G. and Green, C. (2004) 'A comparison of the advantages and disadvantages of IT based education and the implications upon students', Interactive Educational Multimedia, 9, p63-76.
Riesman, D., Glazer, N. and Denney, R. (1989) The Lonely Crowd: A Study of the Changing American Character. New Haven: Yale University Press.
Ritzer, G. (2019) The McDonaldization of Society: Into the Digital. 9th edn. London: Sage Publications.
Ritzer, G. (2005) Enchanting a Disenchanted World: Revolutionizing the Means of Consumption. 2nd edn. Thousand Oaks: Pine Forge Press.
Rojak, C. (1993) Ways of Escape: Modern Transformations in Leisure and Travel. London: Palgrave MacMillan.
Schutz, A. and Luckmann, T. (1973) The Structures of the Life-World Volume 1. Evanston: Northwestern University Press.
Sell, S. K. (2020) 'What COVID-19 reveals about Twenty-First Century capitalism: Adversity and opportunity', Development (Rome), p1-7. [online]. Available at: https://link.springer.com/article/10.1057/s41301-020-00263-z (Accessed: 23 June 2021)
Vlassis, A. (2021) 'Global online platforms, COVID-19, and culture: The global pandemic, an acceleration towards which direction?', Media, Culture, & Society, DOI:10.1177/0163443721994537
Zoom Video Communications Inc. (2021) Zoom Privacy Statement [Online]. Available at: https://zoom.us/privacy#_Toc44414843 (Accessed: 23 June 2017)