The Businessman in the Consumer Society and Self-Deception from the perspective of Jean Baudrillard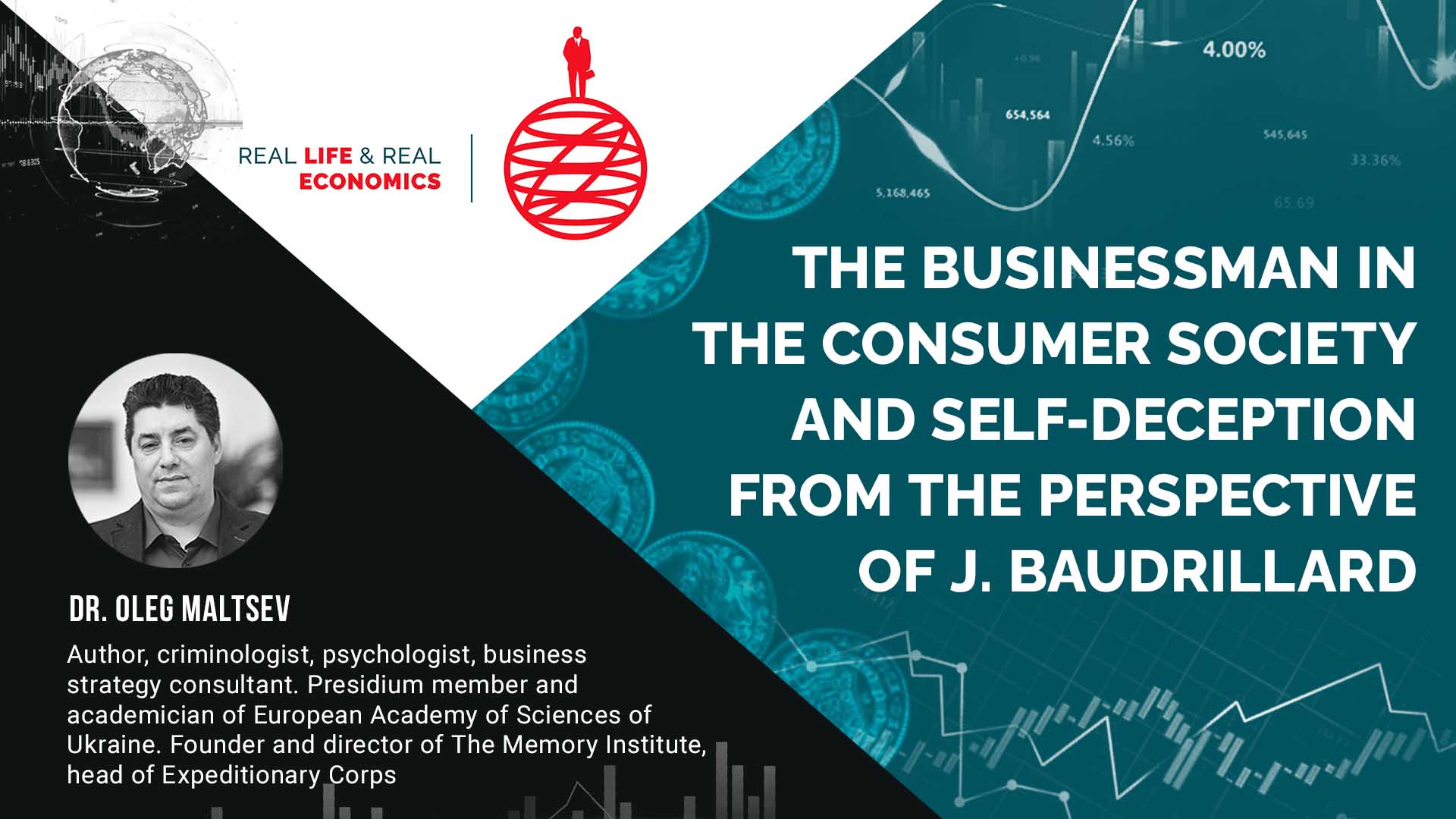 Dr. Oleg Maltsev
Author, criminologist, business strategy consultant. Presidium member and academician of
European Academy of Sciences of Ukraine. Founder and director of The Memory Institute, head of Expeditionary Corps
A high complexity task of a businessman is achieving zero prime cost.
The philosophical category of "consumer society" was described in detail in Jean Baudrillard's works, the author of which is rightly called the godfather of postmodernism. Baudrillard authored more than 50 works and essays, some of which unsparingly scrutinize modern consumer society in depth. Some of the terms he used to describe this aspect of the society speak for themselves: "silent majority," "screened out," "electorate" and the "kingdom of the blind" among others. Baudrillard cannot be blamed for his sentiment regarding humans, nor for a biased attitude.
The author of this paper considers particularizing people within the consumer society into two general categories, one of which characterizes people in business. For the purposes of the given paper, let's assume that consumer society divides people into two categories:
1) People who do not determine their place in society. A consumer society "inherently presumes" that it determines and bounds an individual's standing (status, position, level in the hierarchy of power and opportunities).
2) People who oppose being defined by consumer society choose the path of becoming businessmen (i.e., they decided to be entirely responsible for their wellbeing).
Consumer society offers only two options: either become a businessman or be placed by society according to its unknown rules. In the latter case, consumer society determines what you think, how you think, what you do and what you become.
Economics textbooks, be it by Campbell McConnell, Paul Samuelson, or any other classic book, communicates the central idea that "resources are limited and people would like to consume more than it is possible to produce." But further comprehension of this paradigm is not a common trend within a consumer society.
What is demanded from a business person within the consumer society to become successful? Let us look into a problem faced by businessmen, which becomes a universal problem. Imagine a 20-30-year-old person who decides to launch a business. However, he finds out soon enough that "spots" are occupied and industries are already abundant in services and products. Thus, even if he succeeds in a particular sector, the consumer society always sets him a highly complex task: achieving zero prime cost.
Reaching zero prime cost is achieved when nothing is invested in what is produced and (or) sold. You might think that such a configuration is possible only when something is stolen. That is not always the case in business. People in business have developed a "tremendous tool" — political marketing. The aforementioned approached was implicitly described by Baudrillard in a number of his books.
For instance, some independent researchers wonder why a private military company such as Blackwater receives vast funds from the U.S. government to fight "for the U.S." in other parts of the world. Firstly, the U.S. does not need American soldiers dying in wars, as such deaths create resentment within society (which prompts other unpredictable consequences). Such a reaction from the American public has been observed in history before, and the government learned its lesson from the Vietnam War.
Secondly, suppose that the U.S. government representatives have an economic interest in another country's natural resources and made an implicit tactical decision to appropriate them. These kinds of expansive undemocratic tactics will inevitably cause a global scandal. Therefore, instead of the U.S. Army, the role of an invader is played by Blackwater. In such a case, seemingly, there are no guilty parties. Nevertheless, the interested party gets the natural resources (the management passes into the hands of who hired Blackwater) at the expense of "minimal investment," which is not comparable with the resulting profits. Natural resources obtained free of charge (not bought) provide zero prime cost for potential projects, production and new businesses.
The description mentioned above of gaining zero net cost (one of the options) does not apply solely to the U.S. It is observed in many instances of the global market among players on the macroeconomic level. Speaking of an ordinary businessman who does not have the capacity to seize what he wants, for example, makes illegitimate negotiations with his friends from law enforcement agencies to imprison his business competitors and use these new conditions to strengthen his positions in a particular industry.
These are the ways of how unfair competition is implemented in markets. However, people call it "unfair competition" only if one's dirty play becomes known. Otherwise, if a person is unaware of what is happening in his country's business environment and economy, he regards this as "a part of life," naturally, as if by an unfortunate coincidence.
Generally, it is expected that business should be carried out honestly without the usage of such unfair methods. However, the consumer society sets the businessman with the super-objective of zero prime cost. At the same time, society is not interested in how he will solve this problem. Therefore, business people alone must find a way to solve it. If he fails to do this, his company will be declared bankrupt. On the contrary, if he finds a solution to achieve zero prime cost, his business flourishes.
 Self-deception from Baudrillard's perspective
The second concept described by Baudrillard is the self-deception that governs this world. Self-deception is the subject of several chapters of my new book, "Enigma or Crime: Real Life and Economics," written for the "Real Life and Real Economics" conference. The beginning of this concept is traced in a short poetry book by Baudrillard titled "Stucco Angel." Speaking of analogs to Baudrillard's works, in the Russian-speaking world the works of the brothers Arkady and Boris Strugatsky, —fiction writers and outstanding sociologists of our time. To paraphrase their basic concept regarding self-deception: "There is no need to deceive us. We are glad to be deceived."
The average person wants to be deceived. Why? Baudrillard makes no assessment, he does not call for any change, but he encourages the reader and thinker to address this question himself.
People deceive and are deceived infinitely within a consumer society. For example, do you remember the last time when you were sold a product that was not fully functional or was not what you expected? If you were to return the product to the company, there is a chance that it will be sold in the same conditions to another person (who did not inspect the product properly). Mass nature excludes competence and ethics. If ethics is excluded, the quality of goods and services provided to you does not matter. All of these factors create today's mainstream value system.
Self-deception in human life begins in childhood. Whatever a child is told by his parents, he/she takes it on faith. The "2*2 = 4" truth is known since childhood, but teachers at school do not teach (know) that this is only valid in the decimal number system. Nevertheless, the person does not bother to check this data. Consequently, this becomes a habit which forms his perception of this world based on fallacious data—a prism based on secondary data ("someone told me…"). This self-deception applies to everything, including the history of economics, business, technology and science in general.
Self-deception can be classified into four types:
1) Crude work: an unsubstantiated theory where the subject is offered to a person without any research methodology, reliable facts and evidence, without photography as an instrument of scientific research and without validating scientific data. It is a simple statement, a theory or hypothesis, unsupported by anything.
2) Truth with "discount" conclusions. In this case, the data is conscientiously collected, and the source material is presented. Although collecting data is one part of the scientific work, there are other stages as data processing and conclusions that are not considered. At this stage self-deception begins. Despite having "accurate" raw data, conclusions that are made based on them can be absurd.
3) Clean job: the best historical example is the work of the Franciscan monks. These people were "experts" in rewriting history: they produced treatises, documents, and other material evidence at the highest level. It could be the case that even 100 years later, most people have no idea that they are dealing with a fake document.
4) Enigmatic Mass: the subject of research is secret and unknown. For example, UFOs are enigmatic, and it is an exciting topic for many. Since it is impossible to verify the authenticity of their existence, any information "wrapped" under this topic can be fed to people.
All of the above-mentioned techniques, methods, and ways of research are used against people in all areas on a daily basis. Meanwhile, provided a person wants to find out what is actually true and what is not—he can find that answer in most of the cases. But usually, he does not even pose questions as such. Consumer society's dish is "self-deception."
The automatic system of human memory is structured in a way that when one goes through an experience (usually a negative one), he automatically regards whatever was used against him as an "effective tool against others" (since he felt the effect of it). Therefore, he will continue to use the "informational deception" trick with others. This allows for a chain reaction to be  set in motion globally, regarding deception.
This game without rules did not begin today. Its foundations and conditions, especially models in practice, have been known since the seventeenth century. The rules of the game of the modern environment are demonstrated by one of the mottos of consumer society, which could be conveyed in the words of the classic Russian poet Alexander Pushkin: "Ah, it is easy to deceive me! I'm glad myself to be deceived."